As I started to put together the program for this year's nationals I started thinking back to the all the past nationals that I have been lucky enough to attend over the years. Some of those memories are of the racing itself, some are of the various events that took place after the racing, and others are of side trips we took on the way to and from the nationals. For me the fondest memory of each and every nationals are of the people I've had the pleasure of meeting, and then reconnecting with them the following years. I have been involved with model boating for over 30 years now and I've meet some of my dearest friends, as well as my husband, while participating in the various events over those many years.
One of my favorite memories was from the 2009 nationals in Marysville WA. It was karaoke night at the hotel - you haven't experienced anything until you've heard a model boater sing! Those of you that were there know who you are so I won't mention any names.
I got to thinking that it might be interesting to see what some of your favorite memories were from over the years as well. On the next few pages are some of the most interesting ones, sorry I couldn't include them all. I hope that you will enjoy them as much as I did, and who knows maybe it will remind you of something that you forgot over there years.





Memories of Past Nationals - Intro by Tracy Osborne
I'm running A hydro, using a foam Hughey with Veco/McCoy engine with a home made tuned pipe made from brass shim stock. I was able to out last some great names: Ed Hughey, Ed Fisher, Glenn Culpit, Mike Meelbush, Wally and Sally Stewart, and Ron Erickson - now that's some fast boaters… As they say, even a blind squirrel can find a nut once in his life !!!!
Realizing that the Nationals are not so much about racing but more about spending quality time meeting the NAMBA family, making new friends and sharing the passion for model boat competition.
Every morning we would have to wait until 8:00 before we could put any boats into the water. The drivers' stand was a tall wooden structure overlooking what was the Canadian National Rowing Team facility. Just before 8:00 they would play the Canadian and USA National Anthems, at which time, a formation of Canadian Geese would fly by, right in front of the drivers' stand. The bright blue skies, music, and geese formation was a true NAMBA Nationals highlight to remember.
It was my first nationals, I was near the driver's stand and heard Jimmy Brown while driving his X Mono yelling at his dad/pitman "lean me out daddy I've got to go".
Greg Hill entertained us by performing several gymnastic routines above the swimming pool on a beam and he didn't fall in.
Meeting the Aussies for the first time. Making sure they had coolers, drinks, chairs and shade. Taking time to really get to know many of them as they have continued to cross the ocean to race and have fun. We have made long lasting friendships with several of them.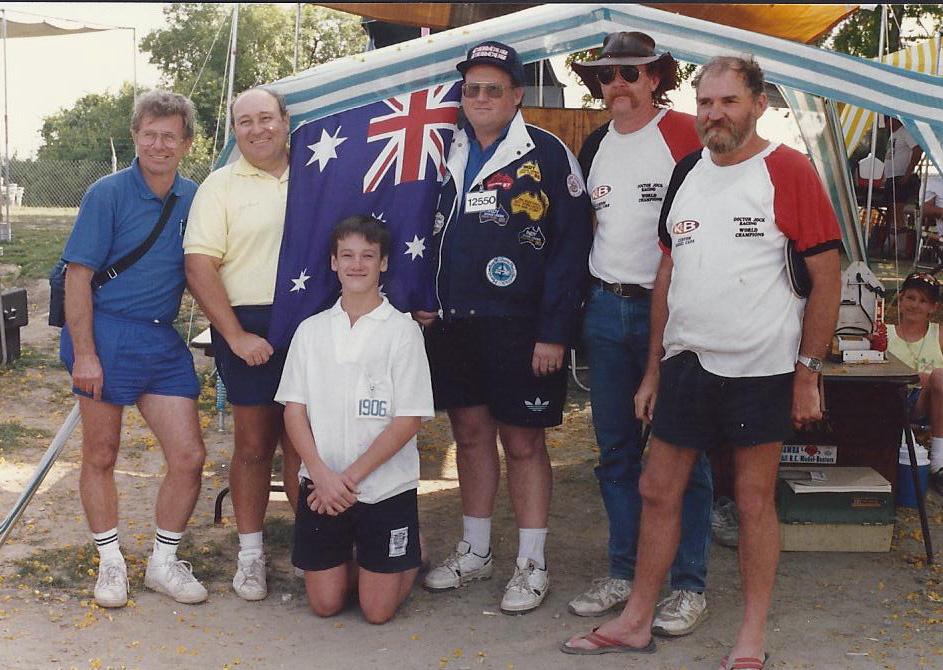 Socializing at the host hotel, many boaters brought their chairs from their rooms and we all sat in the parking lot many nights talking and having fun. One night we even had the hotel staff join us, probably to keep us out of trouble.
2011 NAMBA Nationals Page 14