2011 NAMBA Nationals Page 28
Scale Unlimited Nitro Team Marathon Team Champions
1972 n/a Gary Metalak & Mike Meelbush Aloha MPBA 1973 n/a Bezier & Speights Seattle MYC 1974 Bill Hornell Mijima & Soto San Diego Argonauts 1975 Bill Hornell Al Metalak & Ira Cotton Seattle MYC 1976 Ray Savoni Lange & Maguire R/C Model Boaters 1977 Bill Smiley Marine Modelers Marine Modelers 1978 Bill Hornell Team District 9 Gold Coast MBC 1979 Ray McLead Hodges & Don Pinkert Florida AST 1980 Ron Erickson n/a Gold Coast MBC 1981 Howard Power Mike Drewery & Cecil Reynolds Eight Balls 1982 Terry Holland Al Prather & Terry Prather Sniveler Racing 1983 Al Williamson J Power & Judy Prigley Eight Balls 1984 Remy Haynes Chris Carver & Hartley The A Team 1985 Eddie Patton Frank & Cecil Reynolds n/a
1986 Ralph Henry Paula Cirelli & Roger Cirelli Moving Violations 1987 Paul Kitano Bud Jones & Terry Holland Plum Nutz 1988 Gene Bussell Ralph Henry & Roy Edenfield District 19 1989 Jack Oxley Joe Monohan & Richard Hazlewood Plum Nutz 1990 Larry Maglinger n/a Zoo Crew 1991 Dave Sarkin Justin Hill & Lenny Blake Zoo Crew 1992 Larry Arcadi Justin Hill & Lenny Blake Zoo Crew 1993 Al Waters n/a Eight Balls 1994 Richard Fish Justin Hill & Lenny Blake Zoo Crew 1995 Tom Toth Jeff Keeton & Mike Donovan TNT 1996 Al Zaporteza Jeff Keeton & Mike Donovan Zoo Crew 1997 Jeff Keeton Justin Hill & Lenny Blake n/a 1998 Ralph Henry Ralph Henry & Lenny Blake Zoo Crew 1999 Doug DeWitte Tony Rhodes & Lenny Blake Zoo Crew 2000 Doug DeWitte Wet Dreams Zoo Crew 2001 Tony Rhodes Ralph Henry & Tony Rhodes Boating Misfits 2002 Dave Brandt Team Seaducer District 8 2003 D & M Racing Tony Rhodes & Lenny Blake Zoo Crew 2004 Troy Davis n/a Seismic Amigos 2005 Al Waters Bang Racing Team District 9 2006 Jack St. Clair Al Waters & Russell Stark Team Calizonia 2007 Troy Davis Justin Hill & Lenny Blake Lanza Race Team 2008 Mark Grim Justin Hill & Lenny Blake Team Calizona 2009 Kirk Maupin Team Seaducer District 8 2010 Rick Bellinger n/a District 19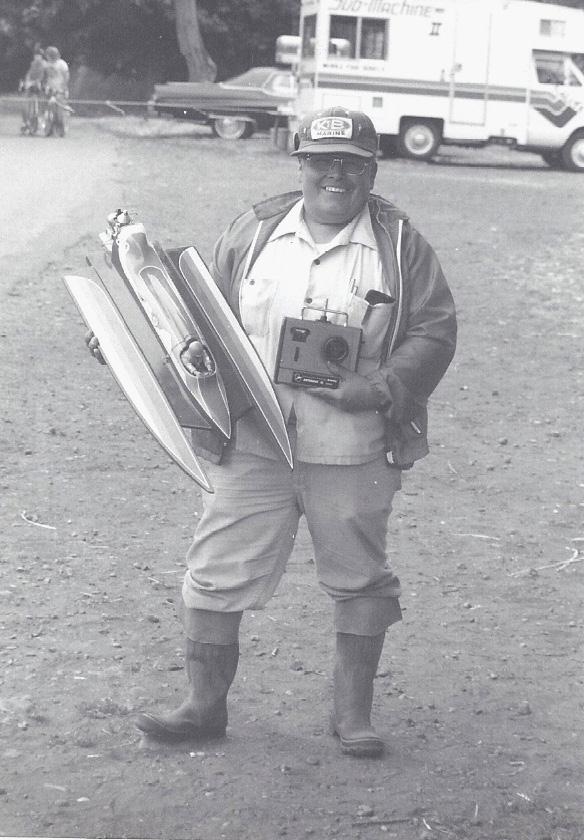 Jack Garcia at the 1980 Nationals
in Tacoma WA.
Open Multi GX-1 Mono GX-1 Catamaran GX-1 Outrigger GX-1 Sport Hydro
2000 Rum Racing Doug DeWitte n/a n/a n/a 2001 n/a Russell Stark Joe Bruzzese Henry Velasco Erik McNair 2002 n/a Bill Sydor Gary Blockburger Bill Sydor Russell Stark 2003 Alan Terry Bill Sydor Jeff Michaud Bill Sydor Jeff Michaud 2004 Rum Racing Gary Blockburger Chris Herzog Richard Hallet Eric Bourlet 2005 Rich Moore Russell Stark Phil Montano Phil Montano Russell Stark 2006 Rich Moore Jeff Michaud Jeff Michaud James Traut James Traut 2007 Alan Terry Ron Buck Ron Buck Alfred Lanza Eric Bourlet 2008 Alan Terry Rum Racing Troy Davis Justin Hill Alfred Lanza 2009 Justin Hill Shannon Muth Alfred Lanza Team Hillborne Tyler Gerrard 2010 Stu Barr Carlo Catalanotto Erik Lis Mark Grim Al Waters
Do you know who has the longest stretch of
continuous years winning at the Nationals? As well as how long of a run it was?
2006 Team Seaducer
2007 Russell Stark & Jim Feener 2008 Team Leecraft
2009 Russ Stark & Gary Blockberger 2010 Carlos Catalanotto & Jess Lee
Classic Thunderboat
2008 Russell Stark 2009 David Newton 2010 Osman Race Team
Jersey Skiff